Sign a letter to Congress:
Text SIGN ZCFOFT to 50409 and follow the instructions from Resistbot to sign the letter below to your representatives in Congress: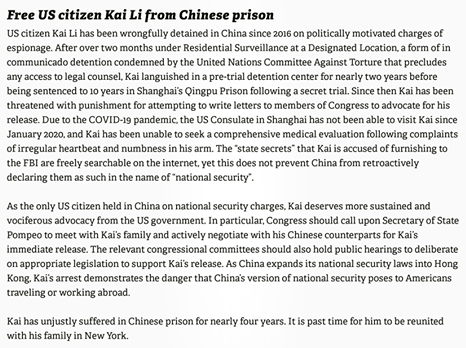 Make phone calls
You can call your senator and/or representative's offices, stating your concerns about Kai Li's detention and the need for Kai's case to be publicly recognized by Secretary of State Pompeo and President Trump. A directory of Senate phone numbers can be found here, while House phone numbers can be found here.
You can also contact the House Foreign Affairs Committee at (202)-225-5021, and the Senate Foreign Relations Committee at (202)-224-4651. Mention your concern about Kai's detention, request with the operator that the committees hold a hearing on Kai's case, and ask for the contact information of the appropriate staffer to follow up.